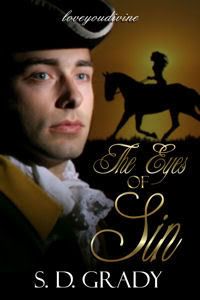 FANTASTIC REVIEW!
"The Eyes of Sin" by S.D. Grady
has just been awarded 5 Coffee Cups at Coffee Time Romance.
"Ms. Grady takes a country girl, gives her
the will to become someone she is not, then turns her into a strong woman with
the will to survive. The push and pull attraction between the two main
characters is thick with the want and need they have for each other. The scenes
depicted in the tale were described with vivid clarity. A sensational read for
any romance reader, this story is filled with passion, laughter, and tears. The
Eyes of Sin is a tale that will be remembered for years to come.
Danielle

Reviewer for Coffee Time Romance"